The Narrators Personal Hygiene
obscurum per obscuri | General | 17 November 2004, 12:05am
Throughout the first half of the movie, The Narrator is seen engaged in various activities related to his personal hygiene.
His first activity upon moving in with Tyler, is attempting to take a shower (albeit with rusty water). He says he doesn't mind the fart smell, the stale refrigerator, etc., yet he tells us when he came home from work and was upset just a few weeks earlier, he cleaned his condo or polished his Scandinavian furniture while he should have been looking for a new condo.
Clearly, The Narrator is struggling with finding a balance between "letting go" and having a "conventional lifestyle." While The Narrator describes Tyler's house as a "shit hole," and even refers to Marla's place as "her crumby apartment," after Project Mayhem kicks in and the Space Monkeys move in, the first thing he (and Tyler) has them do is clean the house and plant a garden.
He tells us "Fight Club became the reason to cut your hair short and trim your fingernails," yet it is Tyler and not The Narrator we see clipping his nails and shaving his head.
In several scenes, we see The Narrator forcefully brushing his teeth. The first time we see him doing this, Tyler stands nearby filing his nails. During the same scene, The Narrator is mildly concerned over his lost tooth but after Tyler reminds him "even the Mona Lisa is falling apart," he wistfully throws it down the drain. Again, clearly struggling with "sliding" vs. controlling.
This struggle is again seen as The Narrator constantly tends to his wounds (at work, in the bathroom as Tyler bathes and smokes) while Tyler does not. He sports bandages on many of his injuries whereas Tyler is never seen with any.
But perhaps the most interesting theme regarding personal hygiene in the film is The Narrator's relationship with his toothbrush. The second time we see The Narrator with his toothbrush is after Tyler flings the door open during a sex session with Marla. The Narrator vigorously brushes his teeth while listening to them "sport fuck" and refers to himself as "the calm little center of the world" and "the Zen master" (he also refers to himself in similar terms regarding being the only healthy person at his support groups) even though it is obvious that he is not yet enlightened.
After his boss reprimands him for his appearance telling him to take the rest of the day off, get some clean cloths and get himself together, he returns to Tyler's house describing it as "dilapidated" only to hear Tyler and Marla fucking again. The following morning, The Narrator begins a ritual: He uses his toothbrush to scrub out bloodstains. This is reminiscent of Shakespeare's play Macbeth in which the character Lady Mac Beth tries, in vain, to wash blood/guilt off of her.
When Marla comes downstairs after The Narrator takes a phone call that same morning, he returns to the act of blood scrubbing. When she approaches him seductively talking about her dress, he tries to ignore her suggestions and we see a close-up of him scrubbing even harder.
This, however, is the last we see of The Narrator concerned with his appearance as he nears "hitting bottom" and foregoes some of the worldly activities he once considered so important.
He takes up smoking. He shows his bloody teeth to a co-worker. He refuses to wear a tie and begins challenging his boss yet still reminisces of his old self during their altercation as he thinks, "I used to be such a nice guy."
He threatens the Project Mayhem cops with a "lead salad" if they try to follow him. He walks in front of a bus and repeatedly yells, "SHUT UP!" at a passing motorist. Near the end of the movie, Tyler chastises him for running around in his underwear like "a crazy person."
In the final scene of the movie, as The Narrator nears achieving the balance between hitting bottom and being uptight, he reveals that "for a moment" he is concerned with the cleanliness of the gun.
The Narrator, like so many of us, is still struggling with finding the balance between taking responsibility yet not wanting too much of it; between "letting that which does not matter truly slide" and operating under the assumption that he is in control of his life; between doing what he knows is right but fearing how society will respond to his actions.
"You met me at a really strange time in my life," he tells Marla. Then again, life itself IS strange.
Current Mood:
Angry
Current Music:
x
Permalink | Add Comment | Trackbacks (0)
Bob
obscurum per obscuri | General | 09 October 2004, 9:00pm
Bob
"In death, a member of Project Mayhem has a name. His name is Robert Paulson."
-Space Monkey< ?xml:namespace prefix = o ns = "urn:schemas-microsoft-com:office:office" />
Robert Paulson, called Bob, is a victim of testicular cancer who has grown breasts due to his hormone therapy. His wife and children have abandoned him, and he finds solace by attending a support group and by building a friendship with the Narrator, whom he knows as Cornelius. Bob later joins Fight Club and Project Mayhem and dies as a result of participating in a terrorist activity.
Bob is perhaps the most symbolic character in the movie. Marked by his breasts, he represents the Narrator's last grip on his caring, "feminine" side. He is the one that first convinces the Narrator to cry and thus show his "weakness," thereby attaining peace. He continues to be the Narrator's weak spot throughout the movie.
The disintegration of the Narrator's femininity is symbolized when Bob joins Fight Club, but he continues to care about Bob, as shown when he breaks Tyler's rules by convincing Bob not to give up on being admitted into their "army." In short, the Narrator betrays his masculine side, portrayed by Tyler, for his feminine side, portrayed by Bob. Ironically, however, this action will cause Bob's death, showing that there is no room for softness or compassion in Tyler's vision of a testosterone-dominated future. Bob's death is the final event that convinces the Narrator that Project Mayhem has gone too far; it is the catalyst that sends him on his search for Tyler. Bob makes the Narrator realize that some sacrifices are just too much.
I would like to point out about Robert Paulson that he was the only member of Fight Club allowed to fight with his shirt on, a direct violation of the rule: "no shirt, no shoes". I can't glean any symbolism, perhaps someone else can. He was the only member with tits, however." My take on this is that either Bob was exempt from the no shirt rule because of his, um, chest and the Narrator simply didn't mention it, or it's a deliberate slip in the movie's logic, made to catch the viewer's attention.
Then again, after watching the movie again a few more times i noticed that Bob is allowed to break all of the rules at various times...he talks about fight club (w/jack), the shirt, he leaves the porch during his 3 day trial period to enter project mayhem (jack talks him into staying), he is referred to by name by the narrator even though their names have been taken away in project mayhem, etc......he may be allowed to break the rules because jack first found the beginnings of his new path crying between bob's bitch tits...
However, I do not think his wearing a shirt is related at all to symbolism. Rather, I think it is actually just part of the cinematography. Bob's character most likely wore a body suit to portray his large breasts, and if you have ever seen these body suits you will know that they are not flesh looking. I think they (the cinematographers) had Bob in a shirt to cover the body suit. Otherwise, Bob's costume would of had to been much more complicated and costly.
Current Mood:
Angry
Current Music:
x
Permalink | Add Comment | Trackbacks (0)
The Heart Chakra
obscurum per obscuri | General | 31 August 2004, 1:36am

"Slide."
-the penguin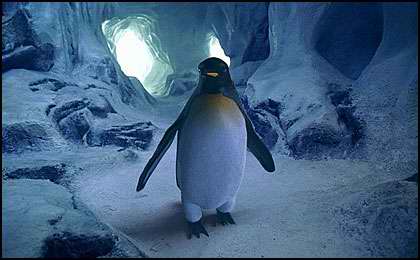 One of the most confusing symbols in the movie is the Narrator's "heart chakra." It stems from an exercise held in the brain parasites group; the participants are urged to "open a door" in the backs of their minds and step through into their chakras.
The Narrator, going by the name of Rupert, finds himself in an ice cave. There he meets his power animal, an obscenely cute penguin who chirps, "Slide." The penguin then giggles like a child and slides across the room on his stomach.
Later, after Marla begins attending the support groups, she invades the Narrator's heart chakra as well. He sees her sitting in his cave, smoking, and the penguin is no where in sight. Marla looks up at him and says, "Slide."
She later appears in the chakra when the Narrator tries to find peace there while Tyler is scarring his hand with lye. The Narrator leans down to kiss her but she blows smoke at him instead.
What does the heart chakra mean? It is never really explained, but it can be assumed that this is the Narrator's subconscious self: ice. It and the penguin are the opposites of Tyler, who embodies fire. Marla's appearance in the chakra indicates that she is akin to the Narrator in her nature.
She becomes his power animal, showing that she is too much like him. He needs Tyler's fire, the part of himself that escaped, to become whole.
The narrator identifies the penguin as his power animal. I thought why would Palahniuk choose a penguin out of all other birds and animals. So I did some research on penguins and found some information that would link the narrators character to the penguin.
First of all, male penguins play an important role in incubating a couple's eggs. This would demonstrate his absent father figure. Also, the penguins markings may have some connection- many people identify the penguins marking as looking like a man in a tuxedo. This could also relate to masculinity, but also materialism and the yuppie society. It could also relate to his job as a waiter.
As a parallel to Tyler Durden's philosophies on "hitting rock bottom. Tyler says things like "its is only when we have lost everything that we are free to do anything." I think the colloquial connotations of "slide" is to let things "slide."
That is, his inner self (ie Tyler) is striving to reach a point when nothing affects him, and he can truly let anything "slide." There is a quote from Jack (narrator) when he and Tyler are at the convenience store with guy who wants to be a vet... Jack says that the overall goal was to attain the ability "to let that which does not matter, truly slide."
Current Mood:
Angry
Current Music:
x
Permalink | Add Comment | Trackbacks (0)
Tylers Clothes
obscurum per obscuri | General | 25 August 2004, 11:33am
"It was a bridesmaid's dress. Someone loved it intensely for one day, then tossed it."
-Marla

A large part of Tyler's symbolism comes from his clothing. While the Narrator dresses conservatively, even after he abandons his old life, Tyler's clothes are always outrageous.
His "business attire" consists of a white suit in which he looks more like a pimp than a businessman; his jacket is red leather, his choice of shirts is unusual to say the least, and his pants always seem a couple sizes too big for him and are worn low on his hips.
A few articles of clothing carry more symbolism than others.
The Pink Glasses
Tyler almost always wears wire-rimmed glasses with pink lenses. The obvious symbolism of "rose-colored glasses" is undermined by his perverted vision of a perfect world.
What Tyler sees through his glasses is a faulty world where the common man is downtrodden and his masculinity repressed. His utopia is a world of violence where pain is freedom and every man has control over his own destiny-- as long as he is still under control of Tyler.
The Red Jacket

I was thinking about Tylers clothes the other day after I watched the movie for the umpteenth time and actually was thinking about his Leather Jacket. The Red one that he wears for most of the movie. Traditionaly Red leather is very feminine and worn predominantly by women.
The Pink Robe
Tyler's bathrobe is an anamoly: even though he preaches masculinity, he wears a pink terrycloth robe emblazoned with coffee cups. Tyler's robe seems to prove that even the most violent of men can't escape his feminine side. It also shows that Tyler is a rebel in everything, even when it comes to his own way of life.
The Hustler Shirt

One of the shirt's in Tyler's seemingly vast collection says "Hustler" on it; this is probably the most descriptive piece of clothing he owns. After all, first and foremost, Tyler is a hustler.
Whether he's selling soap or organizing terrorist activites, Tyler relies on his abilities to pressure people into doing what he wants. As the Narrator says, "Sooner or later, we all became what Tyler wanted us to be."
Also, Hustler is the name of a porno magazine, and one of the sleazier ones, at that.
This parallels Tyler's porn splicing misadventures in the projectionist's booth, as well as his rather twisted and violent sex with Marla. (Notice when Jack goes up to the door to spy on them and the door suddenly opens, Tyler is wearing a rubber glove... I don't even want to know where that thing has been.)
Tyler is "perfect" in the Narrator's eyes... he looks like the Narrator wishes he could look like, he fights as well as the Narrator wishes he could fight, and he has sexual prowess that the Narrator wishes he could have. Tyler is the epitome of both violence and sexuality, and these two sides of his nature often come together to produce this overly aggressive and masculine being.
The Sock It To Me Shirt

Again, this is another highly descriptive shirt, particularly because Tyler is wearing it when he goads Lou into beating him up.
Besides simply representing Fight Club, it also embodies Tyler's masochistic nature; he invites pain. At the beginning of their relationship, he asks the Narrator to hit him; he pours lye on his own hand; he vicariously hurts himself by hurting the Narrator.
Remember the scene where Tyler and Jack are smashing cars with baseball bats? The last car they hit is a Volkswagen. There is a discussion on the DVD audio track with Norton, Pitt, and Fincher about how the Volkswagen Bug is a sort of pop culture symbol of the 60's and 70's generation.
Only now, a generation later, many of these same people are now businessmen, trying to repackage this symbol of their generation and pass it off as "retro" in an attempt to sell more cars and make more money off today's youth.
It's hip. It's trendy. It's clever. Just like Jack's dining set. By destroying the Volkswagen, Jack and Tyler are basically giving an upturned middle finger and a big, hearty "f-you" to both consumerism and the previous generation that they feel has abandoned them.
The Dark Glasses
Near the end of the movie, Tyler no longer wears his pink glasses. When he appears to the Narrator in his hotel room, Tyler is wearing dark glasses instead and has shaved his hair as well. This shows how the violence of his dreams has changed even Tyler.
He is no longer happy with his life, for his vision has failed; he sees that even his intricate plans won't change the world, and most of all, they won't set him free.
Near the end of the movie, when Tyler appears to the Narrator in his hotel room, Tyler is wearing a fur coat, dark round sunglasses that look like goggles, and has a shaved head. 'Like a shaved space monkey, ready to be shot into space.
Current Mood:
Angry
Current Music:
x
Permalink | Comments (4) | Trackbacks (0)
Soap
obscurum per obscuri | General | 25 August 2004, 10:09am
"With enough soap, we could blow up just about anything."
-Tyler Durden
When the narrator first meets Tyler, Tyler declares that he is a soap salesman, although Tyler has various other occupations including a night-time movie projectionist and a waiter.
Tyler, however, most identifies himself with the job of selling soap, thus lending weight to the symbolic importance played by soap in the movie. Tyler calls soap "the yardstick of civilization" and tells the narrator that "the first soap was made from the ashes of heroes". He also uses lye, a chemical ingredient of soap, to introduce the narrator to the pain of "premature enlightenment."
In this role, soap is a symbol of purification and cleanliness, of a culture lacking the hypocrisy and fraudulence of contemporary culture.
However, in that Tyler makes soap by stealing fat from the liposuction clinic dumpsters and then sells these soaps "to department stores for $20 a bar", soap also represents a too highly refined culture, a culture where all traces of natural humanity are suppressed, effaced, washed off.
Rather than being made from the "ashes of heroes", soap is made from "selling rich women their own fat asses back to them." The fact that Tyler is a salesman for this product represents Jack's subservience to this culture. Fight Club is founded as a way for men to regain their primitive instinct that culture tries to wash off.
Current Mood:
Angry
Current Music:
x
Permalink | Comments (1) | Trackbacks (0)
Marla Singer
obscurum per obscuri | General | 23 August 2004, 7:08pm

"If I did have a tumor, I'd name it Marla."
-the Narrator

Marla is a young woman already disillusioned with life. She smokes, she steals laundry, she crosses the street without looking both ways. In short, she has no care for herself, and she never seems truly fulfilled. She does not get the form of healing that the Narrator does at the support groups, and even when having sex, she isn't really happy.
Her main role in the movie is that of catalyst; she is the reason that the Narrator becomes unsatisfied with his support groups and seeks catharsis from Fight Club. Marla is, unfortunately, badly used by the Narrator. He resents her from the first time he saw her, blaming her for being a support group "tourist." However, not only is he doing the same thing, Marla at least uses her real name in the groups. He calls her and then hangs up on her when his condo blows up, and he ignores her admitted "cry for help" when she tries to commit suicide.
He rejects her and the help she offers him because she is a reflection of himself, one that he doesn't like. He'd rather be like Tyler. Marla truly loves the Narrator. He is the one she calls when she's dying and when she thinks she has breast cancer. She continues sleeping with him despite the fact that he constantly psychologically abuses her.
She is moved when he admits that he "likes" her, and she holds his hand as skyscrapers fall around them. Sadly, he doesn't seem to return her love. He resents her presence, constantly feeling that she is an intruder. First she invades "his" support groups, then his heart chakra, and then his life with Tyler. He is attracted to her, but he doesn't appear to have any real affection for her.
Marla is the most tragic figure in this film. But she is so very clever. Not clever enough to crack Tyler Durden's code, though; but, Marla is crafty. When they first meet and the narrator follows her to the thrift store where she sells clothes, she is already testing him.
There are numerous innuendoes. She grabs his nuts when he almost exposes her thievery (or does she step on his foot). Not only does this shut him up, but she also gets to size him up right off the bat. They are fighting over custody of the help groups when they get to the most desirable group: bowel cancer. Marla quips, "That's your favorite too? Tried to slip it by me, eh?"
When she breaks down and calls the narrator during 'one of those cry for help things' she says: "I took what was left of the bottle" even though you, the viewer, see at least two pills unswallowed on the nightstand."
When she calls the narrator over again because her 'tit's rotting off from breast cancer, she interrupts and complicates his most stressful moment in his career.
She's like a relapsing disease symptom or a nagging mother -appearing at the worst possible moment of crises. This last doctor visit by him covers every angle she has left to seduce him.
1) He feels her for lumps which she hopes will get him off and rekindle their sexual relationship. Or
2) The romantic moment of him playing doctor will re enact their first night together of sexual union. Or
3)She is desparate and plays upon his weakness for terminal diseases to get him to come visit her. "FEEL ANYTHING?" "No." "MAKE SURE."
And hey, Singer is slang for informant; no wonder Tyler wanted her out of the picture. One other question: Why does she live in apartment 513 with the 3 missing? Does anyone know the signifance of this number? Because, I dont know what it is.
Marla writes her phone number on the back of the Narrator's hand, outside of the pawn shop... but afterwards, when his apartment has been blown up, he finds a scrap of paper that says 'Marla 555-0134'." My first theory was that the Narrator copied the number down later, but it's extremely girly handwriting, even for him.
Anyone else have a feasible theory of where the number came from, or its significance?
Marla is the nihilistic sex interest. She is a masculine female in that she is quite dominant and is therefore the root of the confusion the modern man feels
Current Mood:
Angry
Current Music:
Email thoughts to obscurum_per_obscurius@yahoo.com
Permalink | Comments (2) | Trackbacks (0)
Tyler Durden
obscurum per obscuri | General | 11 August 2004, 11:56pm

"Tyler, you are by far the most interesting single-serving friend I've ever met."
-the Narrator

Tyler Durden is a revolutionary. He is a man who walks through puddles and rides a tricycle indoors in his underwear. Instead of answering his phone, he uses the callback feature. He lives in a run-down house and makes explosives in his basement.
He had never been in a fight until he convinced the Narrator to hit him for no reason. Tyler's philosophy of life is simple and unique: you can't be happy until you hit bottom. In reality, Tyler's physical form is a hallucination of the Narrator.
The "real" Tyler durden is the Narrator himself. Everything he sees Tyler do, he himself is actually doing, without ever realizing it. Oddly, Tyler knows that he and the Narrator are the same person; upon meeting Tyler, when the Narrator points out that he and Tyler have identical briefcases, Tyler only smirks.
The Narrator even has doubts at times as to who is the living human being and who is the hallucination.
Tyler's Professions
The jobs Tyler has taken are, for the most part, menial. By day he makes and sells cosmetic soap; by night he works as the person who changes movie reels in the theater and as a banquet waiter. Naturally he manages to take his revenge on the world just as much when he's working as when he fights.
He makes his soap from human fat stolen from the trash outside liposuction clinics; oddly enough, the women who tend to buy the soap are those who would also get liposuctions. As the movie states, Tyler is "selling rich women their own fat asses back to them."
Working in the theater gives Tyler the opportunity to splice frames of pornography into family movies, while as a waiter, he urinates in the food. Not to mention what he does to the cream of mushroom soup...
Current Mood:
Angry
Current Music:
Email thoughts to obscurum_per_obscurius@yahoo.com
Permalink | Add Comment | Trackbacks (0)
The Narrators Possessions
obscurum per obscuri | General | 11 August 2004, 11:49pm
A house full of condiments and no food

At the beginning of the movie, the Narrator defined himself through his possessions. He obtained things one item at a time, buying objects that he thought would reflect who he was as a person. In reality, he was shaping his personality to be the kind of person who would own the things he had. Among the things he owned was a round table whose top was painted with a giant yin-yang.
This table symbolized what was lacking in the Narrator's life: balance, something that a coffee table couldn't replace. This is shown rather clearly after the table is blasted out of his condo by Tyler's explosives.
After the explosion, the Narrator sees his refrigerator lying on the street outside, full of ketchup and mustard. He comments, "How embarrassing. A house full of condiments and no food." This illustrates what his possessions really were: condiments.
There was nothing substantial in the persona he tried to build through them. Even after he has gone to live with Tyler, the Narrator continues to present what he owned to the outside world as himself. He tells the dectective who called, "That was not a bunch of stuff that got destroyed, it was me." Of course, the Narrator immediately adds to himself, 'I'd like to thank the Academy,' but the very fact that he would even jokingly define himself by what he owned shows that he hasn't really changed.
In the scene where "Tyler" beats himself up in his boss' office, there is a flash of the business cards on the desk. It is very quick, about 5-10 frames. It is toward the end of the scene, where "Tyler" is crawling, all bloodied, toward his boss.
If you use the pause button, you'll notice "FMC" in large letters across the front of the card. I'm sure this is a play on the Ford Motor Company, but in smaller letters on the card it says "Federated Motor Corporation."
It's pretty neat, it has an address, telephone number and even e-mail address."
I find the business card itself pretty clever... "Compliance & Liability Division"? If you look closely, you'll notice that no state is given . . . and that the zip code has six digits. The phone numbers have the classic 555 area codes. The domain of the email address, "telnex.com," is registered but I couldn't pull up a website for them.
Current Mood:
Angry
Current Music:
Email thoughts to obscurum_per_obscurius@yahoo.com
Permalink | Add Comment | Trackbacks (0)
Fight Club Fan
obscurum per obscuri | General | 11 August 2004, 11:36pm
This blog is meant to be the starting point of an interaction for all Fight Club Fans in Hyderabad ( if such do exist ).
For those who havent watched the movie, maybe you should rent it this weekend and come back later to discuss.
For those of you you have watched it. Lets talk.
Email thoughts to obscurum_per_obscurius@yahoo.com
Current Mood:
Angry
Current Music:
Email thoughts to obscurum_per_obscurius@yahoo.com
Permalink | Add Comment | Trackbacks (0)
Subliminal Tyler
obscurum per obscuri | General | 11 August 2004, 2:35pm
There are three ways to make napalm...
Before the Narrator actually "meets" Tyler, he sees him in brief, one-frame flashes, representing Tyler's development in his mind. Below is a list of these appearances.

- Tyler is standing in front of the copier at the Narrator's company, as the Narrator says, "Everything is a copy of a copy of a copy."

- When the Narrator goes to the doctor for his insomnia, Tyler appears as the doctor tells him to go to the testicular cancer support group. As the doctor says, "That's pain," Tyler is standing just over his shoulder, laughing.

- At the support group, when the leader says "really open ourselves up," Tyler is smirking and leaning against him with his arm around him.

- After the Narrator confronts Marla and is watching her walk away, Tyler appears in his line of vision, smoking.

- In the Pressman Hotel welcome video, Tyler is the waiter on the far right. (Thanks to Caite!) This appearance isn't actually subliminal. The Narrator, as Tyler, really did work at the Pressman Hotel, so he would have appeared in the video.

- Tyler is riding down an escalator as the Narrator is riding up in an airport.
In the beginning there are quick flashes of Tyler in the back ground. I counted 3 of them in different times. Later in the movie they explained the projectionist job that Tyler had and how he put pornographic clips in family movies. Do you think those two things have anything in common?"
The characters are aware that they are in the movie (Tyler's references to "flashback humor," etc.), and Tyler DID splice a porn clip in at the end, so it's very likely that he put himself in as well.
So why did the bullet kill Tyler but not the Narrator? My own theory is that Tyler was destroyed because the Narrator hit bottom when he was so unafraid of death that he was able to put a gun in his mouth and pull the trigger. The Narrator no longer needed Tyler because he had hit bottom, and he had become Tyler."
One more question I think what I thought about with great consideration what does Tyler Durden or the Narrator look like, Edward Norton or Brad Pitt. It doesn't show you clearly you just assume that he looks like Edward Norton because Tyler dies but there are different scenes that make me think he really looks like Brad Pitt.
I always assumed that he looked like Norton, but WANTED to look like Pitt... like in the one scene where the Narrator and Marla are walking past a movie theater, and the marquee says "Seven Years In Tibet." So obviously Brad Pitt "exists" in the world of the movie.
I just thought that the Narrator would want to look like him. (Like Tyler says, "I look like you wanna look.") Also, in the Narrator's flashbacks, he sees himself performing Tyler's actions, which suggests that he looks like Norton.
In Jungian psychology, Tyler is the narrator's Shadow figure, a mental archetype meant to represent all qualities the narrator represses in his daily life. As the narrator's satiric comments on the overrefined sensitivity of the world he lives in make obvious, the rough, brutal, primordially masculine side of the narrator becomes thought of as "evil" and repressed.
While the narrator appears to be the mild mannered, politically correct young man our culture idealizes ("I used to be such a nice guy"), in fact the rough, masculine qualities are becoming so repressed and so concentrated that they eventually reimmerge and take over his life in the figure of Tyler Durden.
As the popularity of the Fight Club makes obvious, many males have similar repressed Shadow Figures ("a guy you met at Fight Club wasn't the same guy you met on the streets") Fight Club allows the masculine Shadow side to vent. Because our culture, while repressing masculinity, also glamorizes it in figures such as the beefy figures of the likes of Fabio, the narrator's instant admiration ("You are without a doubt the most interest single-serving friend I've met") becomes understandable.
Tyler comments that "we have no war, we have no depression"-in times of war or depression, the rough, primordial, violent side of human nature is offered a socially acceptable outlet. The Tyler Durdens in the Gen Xers who fill up Fight Club have no socially acceptable outlet."
Current Mood:
Angry
Current Music:
Email thoughts to obscurum_per_obscurius@yahoo.com
Permalink | Comments (4) | Trackbacks (0)